5.complete sets of equipment for the processing of one-step pellet fish feed.
The equipment doesn't need steam and water when processing. The moisture of fish feed below 10.2% when the moisture of raw materials less than 12%. So the fish feed doesn't need to dry.
6.Complete sets of equipment for the processing of

floating after sinking fish feed
The feed produced by the equipment is prawn feed recommended by UN.It wouldn't disintegrate in the water. And would float after hours time. It reduce the water pollution and save feed.
7.Normal temperature and pressure

floating fish feed processing equipment.
The equipment needn't heating system.The fish feed produced under normal temperature and pressure could float immediately.And it wouldn't disintegrate after floating hours.
8.Complete sets of equipment for ultra fine grinding
To make the feed easy to digest and absorb,the non screen ultra fine crushing technology is popular generally. The feed could be fed bigger fry, and also as raw materials for fish feed.


9.Complete sets of equipment for the processing of Microcapsule feed


The equipment could make the micro-pellet enveloped outside normally.Then forming by spray drying process.The diameter of pellet will be 5μm~10μm. And every milligram will include 8 million grain pellet.


The fish feed processing machinery is already separated out from livestock feed processing machinery gradually. Only the full mechanization, modernization, yield and quality of aquaculture can be improved obviously.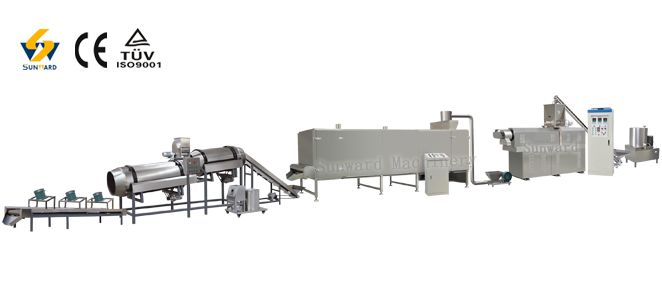 Jinan Sunward Machinery Co.,Ltd is a professional
Puffing machine
manufacturer. Our company could alsosupply many other equipments&parts including puffed food processing line, Ornamental fish feed processing line,textured soy protein processing line, pet food processing line,
floating fish feed processing line
, puffed feed processingline, nutritional rice processing line, corn flakes processing line, Denatured starch processing line, core filling foodprocessing line, puffed leisure food processing line, Fried puffed food processing line, Kurkure food processing line,breakfast cereal processing line, puffed nutritional powder processing line, bread crumbs processing line and so on.
www.cnsunward.com