The advantages of twin screw extruder comparing with single screw extruder(1)
twin screw extruder,single screw extruder DATE:2017/12/19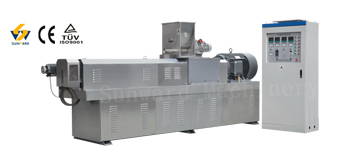 The advantages of twin screw extruder comparing with single screw extruder(1)
The advantages of twin screw extruder comparing with single screw extruder:
1.The raw materials are more versatile and can be adapted to high viscosity, low viscosity, high fat content, high moisture or viscous, oily, very wet material and the other materials that can slip in single screw (SSE) applications.
2.Fewer particle size limits on raw materials allow processing of raw materials from micronized to coarse powder particles and raw material processing outside the specified range of single screw processing
3.Material flow in the barrel is more uniform, you can add steam, water, so that the product to achieve the desired effect.
4.The inner quality and appearance of the product are better. The product can achieve a very good homogeneous state and make the molecular structure of the material evenly arranged. The surface of the product is smooth during extrusion and the uniformity of the product particles is good and uniform.
5. maturation homogenization effect is better, usually starch maturity is up to 95% or more, making the processing of aquafeed can remain stable in water and donot lose the nutritional of the product, and easy to digest and absorb.
6.The same power output is higher.Good mixing properties of the material to obtain timely and uniform heat to speed up the maturation of the material to reduce the temperature fluctuations and improve the extrusion puffed product output.