The
leisure food
market in China presents such characteristics.Leisure food enterprises are numerous, showing a small and scattered situation.Industry concentration is low.In the production technology, new product development and channel construction, local enterprises are lagging behind foreign brands, can not keep up with the pace of development of the market, more concentrated in the low end of the leisure food market.In the high-end leisure food market has been monopolized by foreign investors, foreign investment, joint ventures occupy the absolute advantage of the leisure food market.
The food consumption pattern, which is based on the food and clothing as the main body, is transformed into the direction of flavor type, nutrition type, enjoyment type and even function type. In the broad consumer market, China's leisure food innovation space is still great, many categories have yet to be further subdivided. In the past, traditional hand mill type of leisure food, will be replaced by a growing number of categories and tastes, modern technology and production technology will be fully released Chinese leisure food market energy.
In addition, unhealthy eating habits, excessive intake of high calorie, high fat food and exercise is not enough, and causes of obesity, especially the problem of children obesity. In urban families has become the focus of attention, and the relationship between leisure food and obesity also caused more and more attention. Therefore, the development of health and functional food will be the future trend of the leisure food market.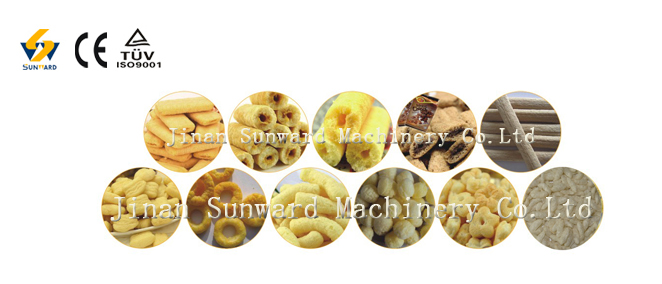 Jinan Sunward Machinery Co.,Ltd is a professional
Puffing machine
manufacturer. Our company could alsosupply many other equipments&parts including puffed food processing line, Ornamental fish feed processing line,textured soy protein processing line, pet food processing line,
floating fish feed processing line
, puffed feed processingline, nutritional rice processing line, corn flakes processing line, Denatured starch processing line, core filling foodprocessing line, puffed leisure food processing line, Fried puffed food processing line, Kurkure food processing line,breakfast cereal processing line, puffed nutritional powder processing line, bread crumbs processing line and so on.
www.cnsunward.com