Corn Extruder
Principles and Features
Corn extruder is use extruded material into machine, flour extruder screw spiral promote material forming axial flow, while the coil and the material, the material is strong compression, mixing, shearing, so that the material is refinement, homogenization. moment when the paste material ejected from the die orifice.
Rice extruder
under strong pressure difference, the material is extruded, dehydration, cooling, resulting in a loose structure, porous, crispy puffed substance, crispy strips its good palatability and flavor loved by the people and livestock, so to say we are not very clear learned that the product of that?
Corn extruder
can be extruded rice, wheat, corn, buckwheat, buckwheat, beans and other whole grains are wheat, rice Tong, Mihua Tang, sweet kernels of wheat, corn and other food crispy good helper. Corn maximize extruder maintained the original flavor of coarse grains of wheat, rice, millet, corn, buckwheat, color, nutrients, is rice-wheat through the primary processing of the ideal food processing machinery, but also the production of coffee crispy corn, bitter buckwheat tablets ideal processing equipment.
Corn extruder with small size, light weight, compact structure, simple operation techniques and considerable economic benefits, won the majority of users of all ages.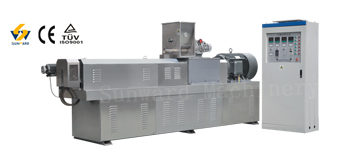 Jinan Sunward Machinery Co.,Ltd is a professional
Puffing machine
manufacturer. Our company could alsosupply many other equipments&parts including puffed food processing line, Ornamental fish feed processing line,textured soy protein processing line, pet food processing line,
floating fish feed processing line