The difference between the feed and food extruder Extruder
DATE:2016/06/24
The difference between the feed and
food extruder Extruder
Feed extruder and
food extruder screw
is the most basic aspect ratio, internal shear kneading member set different. People eat puffed food emphasis is on taste crisp nature, no one is to eat puffed food nutrition, food based primarily on a high starch content puffed cereal-based raw materials, such materials are easy to aging, so the aspect ratio of the short extruder, internal shear cut combines configuration weaker.
The production of animal feed to eat puffed long head, even for a class pet and ornamental fish also require protein and energy needed to sustain growth, so the formula contains a certain amount of protein, fat, starchy ingredients, should these cooked, require more energy, so extruder large aspect ratio, internal shear configuration combines stronger.
So, with feed extruder to produce starch-based puffed food, bit of a waste, whereas the use of such
food extruder
to produce animal feed, do unfamiliar or low yield.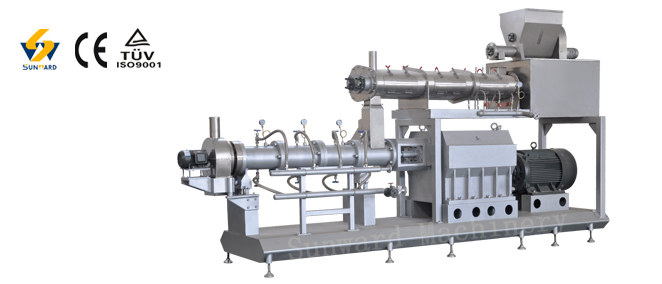 Jinan Sunward Machinery Co.,Ltd is a professional
Puffing machine
manufacturer. Our company could alsosupply many other equipments&parts including puffed food processing line, Ornamental fish feed processing line,textured soy protein processing line, pet food processing line,
floating fish feed processing line
, puffed feed processingline, nutritional rice processing line, corn flakes processing line, Denatured starch processing line, core filling foodprocessing line, puffed leisure food processing line,

Fried puffed food processing line, Kurkure food processing line,breakfast cereal processing line, puffed nutritional powder processing line, bread crumbs processing line and so on.
www.cnsunward.com